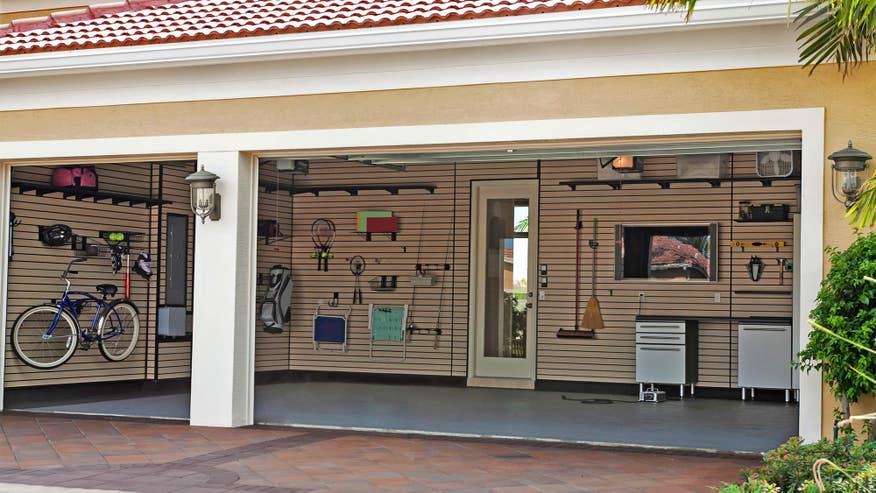 Your garage isn't a giant storage pod, so why is it crammed with junk while your car sits in the driveway? The fix: garage organization, which not only gives your vehicle some breathing room, but can also boost your home's market value when you eventually sell.
According to a survey of 500 Realtors, 82% say a messy garage is a big turnoff for potential buyers. Don't let yours do the same! Here's how to whip your garage into shape.
Purge
Old newspapers, magazines, and catalogs that have been banished to the garage are never going to be read again — so just toss them, says Emma Gordon, an organization expert at Clutter.com. Ditto for those plastic trays that came with your plants (keep them around and you'll be dealing with spiders), paint stirring sticks, disposable paint trays, and other remnants of DIY projects.
"Almost every garage in America has a flimsy aluminum tray coated in house paint, with a matching roller in a crumpled grocery bag," says Gordon. The reality is, you're not going to get another use out of these items. Odds are, you'll forget you have them and buy them again anyway!
But take note: Gardening chemicals, old paint, and other hazardous materials need proper disposal so they don't end up in the water supply, notes Julie Coraccio, an organization coach at Reawaken Your Brilliance in Raleigh, NC.
Call your local health department for the location of the nearest special waste drop-off site. Or if the items you're chucking may still have value, consider holding a garage sale or donating instead. We're talking about old PCs, printers, outgrown sporting equipment, deflated balls of every variety, too-small shoes, clothes, VCRs, and VHS and cassette tapes (no, they're never going to make a comeback).
— — —
Categorize
Once you've tossed and donated your unwanted items, start your garage organization by grouping what's left into piles of like items. Some to consider: lawn and garden, automotive, tools, sports equipment, and seasonal decorations. Designate a section of the garage for each category and decide how to store them. Clear plastic bins are ideal for Christmas lights and wreaths, and shelves can hold liquids (paints, solvents, gardening sprays). For tools, including rakes, shovels, ladders, trowels, and other gardening implements, mount a pegboard.
"Get as much stuff off the floor as possible," Gordon advises. If things aren't hung up, they'll morph into piles and those piles will become clutter. Once you have things arranged on your wall, take a dark marker and outline each tool so you'll know exactly where to place it after it's used.
— — —
Store
Open wire or chrome metro shelving is another good way to tackle garage organization. Make areas for camping items (sleeping bags, lanterns, tents), sports equipment (skates, tennis balls, rackets), and pet stuff (shampoo, leashes, and toys).
"Label everything so you can easily find what you need — or create a map that you can keep near the garage door," says Gordon. And don't forget the ceiling! (Think S-hooks or simple planks laid across beams.) "This is a great place for things that you don't access frequently, such as luggage or holiday decor," she notes.
Lastly, set up a small "mud room" near the door with a bench or chair, tray or large basket for shoes, and a few hooks. You'll be encouraging family and guests to take off their footwear and hang up their coats in your now nicely organized garage.
— — — — —