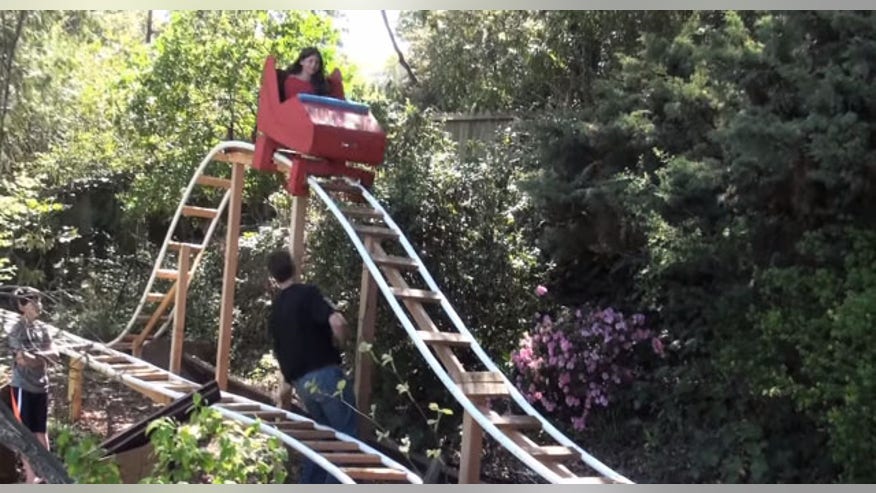 Will Pemble built his two kids a backyard roller coaster as science project.YOUTUBE/ COASTER DAD
Some kids would be happy to just get a tree house.
Will Pemble, an e-commerce consultant who lives in northern California, built a working roller coaster in his backyard for his two kids because they simply asked.
"I started building the coaster because, Lyle, my son asked me if we could, and I couldn't think of a good reason to say no," Will Pemble told CBS.
Their inspiration?  One of the tallest and fastest roller coasters in U.S.–the Kingda Ka at Six Flags Great Adventure in New Jersey.  Lyle, 10 and his sister Ellie, 12 got the coaster bug after taking their first ride last summer.
Pemble, who has documented his journey on his blog The CoasterDad Project, said the project was a hands-on lessons in math and physics.
"The mathematics, the physics, the science, the really hard thinking, there needs to be something on the other side of that math that's worth slogging through that math," Will said.
The coaster, which is 180 feet of track with two small hills, is made with PVC pipe laid on a lumber frame. It took about six months to complete and cost $3500.
When asked if building more rides were in his future, Pemble told The Mirror:
"If I'm honest, I can't think of a single good reason to say no so that could well happen in the future.